All of us dream about playing this or that musical instrument at some period of our lives. Most of us can't deny that we've never wanted to play an instrument at all. Music is essential, as it is created as a result of various feelings and emotions. It can be telling of different cultures, lifestyles and pursuits..
Many people dream about learning and playing the guitar, while many make piano a priority. You can't forget about the violin in this conversation. That's right, the violin. And this review is targeted at one of the most popular starter models, the Stentor II.
Because of the wide variety of violins on the market it is difficult to narrow your choice down to any one of them. If the following resonates with you, then you can feel good about your decision on making an investment for this violin. Without further adieu…
Let's first take a general look at why you should consider this as your best "first violin" from your many options; the Stentor 2 (a.k.a. Stentor II, model number 1500A) violin. It doesn't matter whether you need it for upgrading or starting out, the Stentor 2 violin is a good choice. It is eye-catching that the Stentor violin fits almost all requirements and needs of even the most scrupulous customer. Furthermore, it is easy on the pocket for most of us. The truth is, money does matter when making a purchase for a violin. In fact, it's a big reason we put the Stentor 2 at the top of our list for a starter violin.
When it comes to taking violin lessons early on in your playing, you need a good violin to bring what you have heard into reality and transmit your emotions and style to it. This helps keep your momentum going as you get started. A violin is not just a musical instrument; it is a method to communicate with the world without words. There is nothing more pleasant and satisfying than being understood without having to speak. Sometimes, nice music is more convincing than beautiful words, as music cannot deceive or be grossly misinterpreted as with words.
The Stentor II violin is a great instrument for beginners just starting out.  Experienced violin teachers and violin shops worldwide highly recommend it. If you're looking for a student-grade violin, this one should be your top choice. It is well-built and reliable for it's price and can withstand the rough handling that comes from the hands and care young and developing hands.
Pros:
The Stentor Student II (1500) Violin is highly recommended by professionals for student and advancing string players. It highlights integrated adjusters that are displayed on the metal tailpiece and a solid ebony fingerboard. With saddle, ebony pegs, fingerboard and nut this violin is amazingly beautiful and elegant. When playing the instrument you feel the special experience due to the ebony frog and rope core strings. The setup also comes with a bow with real horse hair. Additionally, you will get a violin blanket and a cake (block) of rosin, a violin. The case, although lightweight will protect your violin from scratches and breakage. It also comes with convenient backpack straps making it extremely easy to tote to and from school and private lessons.
Cons:
Many customers are satisfied with this wonderful instrument and have enjoyed it. It is durable, easy to use and convenient for transporting. Nevertheless, this violin has a small shortcoming, which a few buyers have experienced. It's been stated that the Stentor 2 varnish can be unevenly thick. We cannot agree or disagree with the stated point as it is subjective and many others don't share this opinion.


Sound Quality:
The Stentor violin has a warm playable sound, which is of utmost importance for a beginner student.  In case the violin or any other instrument is unable to make pleasant music then it disappoints the learners quickly and can affect their attitude toward the instrument. Nonetheless, for optimal sound, it is recommended to replace the strings with higher quality types..
Features:
Of course, when buying any product we should get familiar with its features first hand. The features speak about the quality and other important issues regarding the product. This violin has a number of features that should be taken into account before making a decision to buy it. In particular, as they relate to a beginning student.
The Stentor 2 (1500) is optimal as an introductory violin
Hand-carved from selected tone woods,
Individually hand-shaped and finished,
Made from ebony pegs, nut and saddle,
It includes a metal tailpiece with integrated adjusters,
Solid adjustable ebony fingerboard,
It has rope core strings, adjustable nylon tailgut, ebony frog,
The outfit includes carrying straps, lightweight case, and accessory pockets.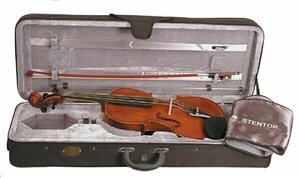 Specifications:
A great number of educators and violin shops recommend this violin as the best option to start playing a violin. They believe that it is the optimum teaching instrument based on a balance between it's quality, craftsmanship and price value. This is in thanks its hand-carved design and the varnish made from selected tone woods. To all these specifications and advantages the ebony pegs and fingerboard should be added due to their high quality. It has a good student wooden bow with rope core strings and ebony frog. The outfit includes a lightweight case, accessory pockets and carrying strap. The Stentor 2 violin is available in these sizes: 4/4, 3/4, 1/2, 1/4, 1/8.
Final Thoughts:
In summary, we should happily state that the Stentor violas, violins and cellos are made by hand in a workshop environment. It reminds us of the traditional ways that violins have been created in Europe for hundreds of years. The instruments of this company possess the crucial characteristics of good tone quality and correct and consistent measurements and specifications. Today this company sells more violins than any other company in the world. You can trust this instrument, as it will provide responsive sound and reliable performance for you.