Best Violins for Kids – Reviewed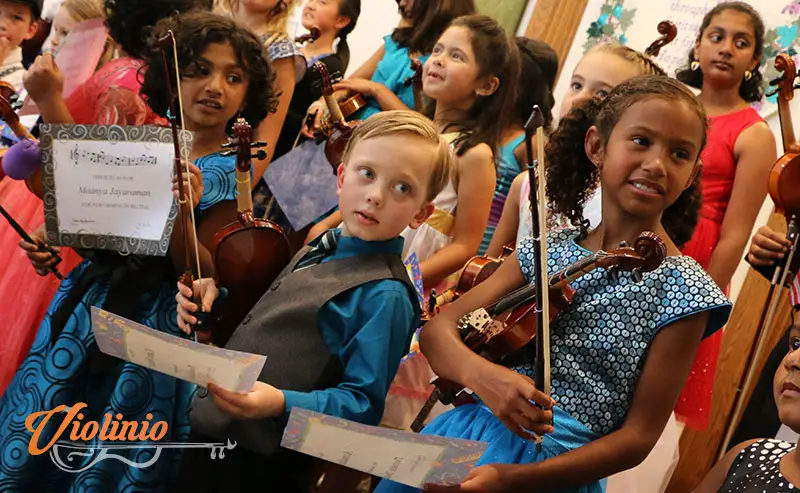 It can be complicated enough to shop for a quality violin, but it can be even harder to find one for your child. Children often have varied needs and possess different skill levels compared to adult players, so their unique circumstances must be taken into consideration.
Violins for children are made to accommodate your child's size, ability and level of interest in playing the instrument.
To help, we've compiled a list of some of the highest-quality violin models that work well for young players.
We have researched the instruments themselves, sought expert opinions and scanned critical buyer reviews to narrow down the most suitable choices.
Our Top 3 Picks
This information should be used to help you pick a quality model based on real applications and consumer satisfaction. A good violin for your child will encourage your son or daughter to keep improving his or her skill even if they end up moving on and to play other instruments.
Violins For Kids That We Recommend
1. Cremona SV-175 Student Violin Review

The SV-175 is a violin meant to meet the needs of both beginning and developing students. It has been the top selling student model from the brand for over 30 years. It is crafted from the best quality tone woods possible in order to provide the finest quality of sound.
It is made with an ebony fingerboard and ebony fittings to provide stable and smooth playing in addition to a hand-carved solid maple and spruce body. It features traditionally shaped fittings to allow proper intonation to make playing easier for the beginner.
Each violin features a Kaufman-style chin rest, Swiss- shaped pegs and the Cremona VP-203 bridge. The model is also lightweight with a lightweight composite tailpiece and four fine tuners for better control.
Every student violin from Cremona comes with Prelude strings made in the US, and these are the preferred strings for students based on instructor recommendations for bringing out the best possible tone.
The violin features a warm brown finish that is translucent enough to show the wood grain to offer esthetic appeal in addition to its superb sound. The finish is applied in thin coats to protect the integrity of the wood in addition to maintaining a traditional appearance, and its neck is oiled for enhanced feel.
Each outfit comes with the popular TL-33 violin case with built-in hygrometer, and an octagonal Brazilwood bow with ebony frog and unbleached horsehair. All of its features combine to create an affordable instrument that also offers professional level qualities.
2. Cremona SV-150 Student Violin Review

The Cremona SV-150 is designed to meet the unique needs of both beginner and advancing student players. It is crafted with the best possible woods to create the finest sound.
It features a hand-carved solid spruce top with hand-carved maple sides, back, neck and scroll. The best woods are used with the intention of creating the best beginner instrument, but neither the sound or functionality are compromised.
The violin is made with an ebony fingerboard and boxwood fittings to provide stable and smooth playing. It features a lightweight construction made with a hand-carved solid maple and spruce body.
It features a quality lightweight composite tailpiece with four smooth fine tuners, and it features the correct string height and spacing for accurate finger positioning and tonal control.
Each SV-150 model from Cremona comes with Prelude strings made in the US which are the preferred strings for students based on instructor recommendations.
They are known for helping to bring out the best possible tone. It features the VP-203 Cremona 3-star bridge, and it is available with a warm brown finish that allows the natural grain to show through.
It features the TL-33 Travelite case with a built-in hygrometer for durable and lightweight protection along with a LB-15 Brazilwood bow by J. LaSalle with genuine unbleached horsehair.
The Cremona SV-150 violin outfit is a great example of a model with a quality and performance that both surpass its cost, and this outfit is one of the best available at its price point.
3. Mendini MV300 Student Violin Review
The Mendini MV300 is a full size violin that is built with surprisingly high-quality. It may not be up to professional level standards, but it works very well as a beginner instrument. As a quality student model, it is rated highly by many players and violin instructors.
It is constructed with a hand-carved solid spruce top with its back and sides made of maple hardwood. It features a maple fingerboard, pegs and chin rest, and it has an alloy tailpiece with four fine tuners.
For those just starting out, it is quite simple to produce a pleasing tone on the instrument even with the included bow.
One of the nicest features about this student instrument is that it comes with many additional accessories that would normally cost an extra $30 to $40.
It comes with an extra set of strings which is useful for a beginner first tuning the unit, and an extra bridge which is helpful for a student who may accidentally break their fragile piece when attempting to put it on.
In addition to the extra strings and bridge, the Mendini MV300 comes with a lightweight hard case that features straps that allow it to be worn as a backpack.
The included Brazilwood bow features genuine unbleached Mongolian horsehair, and it also comes with rosin and an adjustable shoulder rest to make the perfect package for beginner players.
The most remarkable feature of the MV300 is its price.
This makes it a great instrument with which the beginner player can learn. After keeping this violin during the learning period, the player can sell this model and invest in a more advanced model as their skill improves.
4. ADM Handcrafted Solid Wood Student Violin Review
Student violins by ADM are designed to offer incredible sound, esthetic appeal, durability, playability and affordability all in one to ensure new players get the best start.
Even long-time players recommend this model for young players. It makes a great choice for a student as it provides the same rudimentary functions as an amateur would experience from a more advanced model and allows the player to become familiar with the instrument.
Its price makes it a suitable choice for those that aren't sure about their devotion to playing. There will not be a significant loss in investment should the child decide to stop playing or move to a different instrument, and newer models can be sought once skill develops.
This model is available in blue and black coloring, but the red-brown is the most common finish. Users are impressed with its build and appearance as well as its quality, and many appreciate the fact that it is capable of producing rich sound.
It is made with a hand-carved solid spruce top with rosewood pegs, fingerboard and chin rest. It has a hand-carved maple neck, back and sides to give the best stability, acoustics and response. It features an alloy tailpiece and four fine tuners.
The Brazilwood bow is of great quality and is highly recommended by experienced players as one that produces great sound for a less advanced instrument. In addition to its two bridges and extra set of strings, the model comes with a shaped foam carrying case that can be worn as a backpack.
It has a durable nylon exterior with a padded plush interior to keep the violin safe. This ADM student violin is great for those looking to get a playable instrument while avoiding higher costs.
Factors to Consider When Buying a Violin for Your Kid
Some of the most important factors for any violin are its sound, playability and craftsmanship, but children have different needs from adults in their instrument.
Many factors are a priority for a child violin though they may be of less concern for everyone else.
Size
Learning to play on a violin of the wrong size is completely detrimental to your child's comfort and ability to develop as a player. For children, the most common mistake is being given a violin to play that is too large.
The child's age, size, strength, hand shape and skill level must be taken into consideration before choosing the right instrument. For new players, it is best to aim for smaller rather than larger models.
The easiest way to determine the right size is to place the violin on the child's shoulder while they reach their playing hand up around the scroll. The child should be able to do so comfortably with a bent elbow.
It is important to purchase the right size children's violin in order to prevent problems with developing proper technique.
String Type
There are many types of high-quality strings available for violins at all stages, and many of them stand out as more well-known types. Many new violins come with steel strings installed.
The benefit of these kind of strings is the fact that they are affordable and last a long time. The downside is that these strings can be hard on kids' little fingers. There are several manufacturers of excellent strings with non-metal cores, including:
D'Addario
Thomastik
Corelli
Pirastro
Larsen
Bridge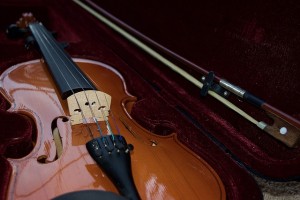 The placement, quality and shape of the bridge is one of the most important components of a well-made violin model. The bridge should be shaped and fitted by a professional before use, but this is often not the case with student models.
Violins for kids may require assistance from a luthier or music shop to be installed correctly. If the bridge is placed too high, it can be hard for children to press the strings down onto the fingerboard.
It is also important to have the strings spaced and shaped appropriately. A poorly shaped bridge makes it difficult to cross strings cleanly, and stopped notes will be out of tune.
Chin Rest
If the chin rest is shaped or positioned wrongly, it makes the instrument uncomfortable or even painful for the child to hold.
The perfect chin rest should comfortably fit the shape of the child's chin enabling them to keep their head straight while looking at the fingerboard. Some chin rests have a high ridge that is a common cause of discomfort and displeasure with standard chin rests.
Most models for kids come with a chin rest installed, but it may be necessary to replace the stock unit. While comfort is the priority, this is a disadvantage where cost is concerned.
Shoulder Rest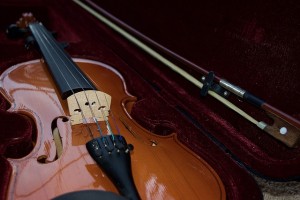 Shoulder rests should present a nice balance between softness and firmness. A quality shoulder rest allows the child to have correct posture. This allows the student to play without tension or discomfort and allows the instrument to resonate cleanly.
A new kid's violin will likely come with a shoulder rest already installed, but many of these are of poor quality. Like the chin rest, the shoulder rest can be replaced for a better piece.
Price
One of the trickiest factors for parents to balance is the money they spend on their child's violin. Before you spend too much, you should learn how committed your child is in learning the instrument.
Buying a violin that will sit in its case or on the shelf most of the time is a wasted investment. Even if the child has the interest, you should also consider how skilled they are or how good they may become.
You don't want to spend too much, but you still want a quality instrument that can help skill development.
Age
Most parents decide to buy a newly-manufactured violin, but this is not always necessary. There are many benefits to owning an older violin. And how great that can be for those that have violin players in the family to pass their instruments down to new students.
Compared to newer styles, violins from older brands often have longer reputations that you can trust for quality regarding the craftsmanship and materials. The tonal quality of a mature violin is usually more stable as the wood has had time to season and enhance the sound.
A new violin takes time to be "broken in" before it produces its true sound, but an older violin will already have this quality. This is even more true if it has been played regularly and kept in tune.
Making the Decision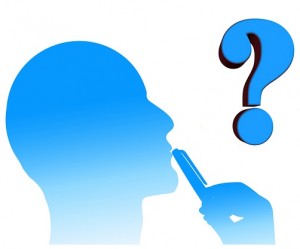 You are now probably well-informed about the significant and unique components of purchasing a quality violin for your child. Hopefully the information above has answered many of your questions so that you may proceed with finding your ideal instrument.
Make a list of your most important features to determine how to narrow down your choices for your perfect instrument
Children have different experiences and skill levels based on their interest, family history or personal talents, and kids' violins can range from the basic beginner models to sophisticated units.
It may be necessary to test out your ideal models to understand how your child will really enjoy it in real applications.
You may also want to test the size out to determine if the model you prefer is made in the right size. Carefully select the accessories as well to make the playing experience as easy as possible for your child.
It is important to pair a violin kids will appreciate with extras that make them stick with the hobby. Compare the information you've gained here with your actual hands-on tests, and bring home an instrument that will make your child love playing immediately and provide a good foundation for years to come.