Our favorite violin pickup hands down is The Band by Headway Music Audio. If you're able to spend a little bit more, this pickup surpasses all others if you want the utmost quality and true to life sound possible when performing live and/or recording.
If you have an acoustic violin and are looking for an easy way to amplify your sound, you are in need of a violin pickup.
Ideally, using a pickup will amplify your sound without sacrificing the sound quality. This is especially handy if you are playing in a large venue like a church auditorium, concert hall, outdoor stage or anywhere where there are a lot of people, and want to maintain great sound quality.
Also, pickup is nearly required if you're playing along with other people in a band using instruments that are amplified and made louder (like guitars for example).
While you can technically choose to perform in front of a microphone, this can result in reduced sound quality, and can also be challenging if you want to be able to move around the stage or any other performance area.
With a pickup, you can amplify your sound and have the freedom to move around. It's the best of both worlds.
Our top 3 picks are below, followed by our complete least of the top 6 violin pickups.
Our top choices are based on individual standout criteria such as price and general acceptance among violin players.
Our Top 3 Picks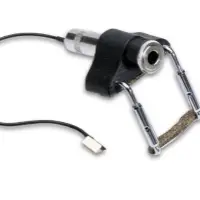 Fishman Classic Series V-200 Professional Violin Pickup

Our rating
clearer sound quality
Price: See Here

If you've spent any time researching violin pickups, you've most likely discovered that there are a lot of product choices available. There is also a pretty significant price difference between the various styles, which can make it difficult to decide what to buy.
To make your decision easier, we have selected the top violin pickups available. We don't just look at the best quality models, but the best within the range of pickup types from entry-level to professional. This gives you a point of reference to help you decide what's most important to you right now for: Price, Performance Quality, Ease-of-use, and Appearance.
Violin Pickup Terms
If you aren't aware of what a pickup is, it is a small device that attaches to your violin and converts it from an acoustic instrument into a virtual electric one. After the pickup is attached to the violin, it is plugged into an amp, and you're ready to go.
Magnetic style pickups – This is the classic microphone technology you're used to seeing or using. Picture a wire coil (typically copper), wrapped around a series of magnets. When strings vibrate and produce sound waves, the electro-magnetic field created by the magnetic coil converts the vibrations into electrical signals that can then be easily amplified.
Piezo style pickups – Pronounced "pee-YAY-zoh", piezo electric pickup technology does not use magnets and merely picks up the vibrations made by the violin strings, They do this by measuring the pressure created from string vibrations, then translating it into an electrical signal to be amplified. They are ideal for amplifying acoustic instruments because they're sensitive to both the actual string vibrations AND the resonance of your violin's wood and accompanying parts. The result is you get a more pure and authentic tone coming from your amp speakers as compared to magnetic pickups. Keep in mind though, it's not picking up the tone that may be shaped from the room. As such, the amplified sound can sometimes feel brighter and not as warm as their magnetic counter-parts. The other nice benefit is there will never be any electro-magnetic interference with piezo pickups.
1. Fishman Classic Series V-200 Professional Violin Pickup

This first violin pickup is by the company Fishman and is a piezo-ceramic pickup. This pickup is easy to install and can be easily removed if needed. Because it is a piezo pickup this means that it will not pick up on any magnetic fields, which will help to produce a clearer sound quality. The main concern with installing a violin pickup is that the acoustic sound quality will be diminished, but this product does a great job of keeping the sound as close to the original acoustic sound as possible. Use this pickup with or without a preamp. Finally, this pickup features a ¼" output jack.
While this pickup is a bit on the pricier side, it is worth the money because of the sound output it provides. Using a preamp will give you even more tone control, but even without it the sound quality is very good.
2. Barcus Berry 3100 Clamp-On Bridge Violin Piezo Pickup

The next violin pickup on our list is the Barcus Berry 3100 model. This is another pickup that does not require you to permanently drill holes into your violin- it simply clamps on the bridge, which makes it easy to install, as well as easy to remove. This model is also a piezo pickup which helps ensure superior sound quality. The feedback rejection feature also helps to produce a sound that is as similar to the violin's true sound as possible. This pickup does not require a preamp. This product does not come with a cord to use with your amp, you will have to purchase it separately.
This violin pickup is also on the pricier side, but will give you a sound result that you can be pleased with. This product does a great job of simply amplifying the true sound of the violin and nothing else- something that can be hard to find when researching pickups. While no pickup will give you a 100% true acoustic violin sound, this product will get you closer. If you are a violin professional, whether playing in a church, folk or country music group, this will be a worthy investment.
3. Leegoal Violin Contact Mic. Pickup

This piezo pickup from Leegoal is a great product that comes at an extremely affordable price point. This product attaches via velcro and includes a ¼" jack and 9 inch cable. This pickup is easy to install and can also be used on a variety of instruments such as violas, cellos, banjos, and guitars. This product does not include the cable for plugging into the amp. At such an affordable price, however, this is not a huge problem.

This is one of the best violin pickups on the market based on its quality and price point. If you are unsure if you want to use a pickup, this is a great solution for you so that you do not have to make a big investment. With that in mind, this is still a great product that will produce a quality sound on whatever instrument you use it on.
4.  Headway – The Band Violin Pickup 

This violin pickup band is unique in the class of acoustic violin amplification devices. The idea behind The Band is that it can easily and harmlessly attach to your violin. It is an instant fit, simply wrapping around the belly of your violin. It's like a large rubber band, except it can be separated during placement and secured snugly in place with a strip of Velcro on the backside of your violin. It's lightweight and not cumbersome during play, despite it visibly having more material in its form factor than a clip-on violin pickup version.
The real benefit from the band comes from its one-of-kind design. A strong passive signal is generated from the pickup components within the microphone. This passive characteristic requires no batteries and a pre-amp is not needed. The signal can easily be routed to a mixing board or combo amplifier of your choice.
Because the pickup band is made and tuned just for violin tones, it can be used in any genre of music: country, folk, classical, jazz, new age, pop…whatever style of music you use your violin in. What's even more special about the design of The Band pickup is its ability to virtually cut all feedback that you'll find present with other violin mics. Additionally, it eliminates any noise originating from bowing or the violin body (body boom).
All that's required for The Band pickup is a standard, non-balanced 1/4″ TS cable. One other requirement has to do with how the band is applied and placed on your violin. Since it is a vibrational violin pickup, it needs to be wrapped tightly around your instrument. Any looseness can affect the sound quality in the form of distortion caused by uneven vibration. Fitting can vary slightly by violin shape but a proper fit is integral to this pickup giving you its full potential of a warm and clean sound reproduction.
This a more expensive pickup, but if you're a performing or recording violinist this is the one for you. Quite simply, other microphones and pickups cannot compare to the sound this band "picks up". Other forms of amplification will always have at the very least, a hint of that unpleasant "electronic" sounding amplification. It's universally agreed that any expense and effort that may be required to get The Band to fit tight and even on your violin is worth the reward. Recording engineers will appreciate the sound as much as you do.
One potential issue to keep in mind if you do not use a shoulder rest is that the input jack for your cable or wireless transmitter will sit directly between your violin's bottom and your lower shoulder. A shoulder rest will naturally create ample space for this. Without one, you may feel the jack gently pressing against you. This is just a matter of preference really, and not a deal breaker.
Using The Band Wirelessly
The Headway's The Band violin pickup can be used with any wireless system that has a 1/4″ input on its transmitter. The best recommendation for a wireless transmitter that will work perfectly with this pickup is the Relay G10 from Line 6. As a small and lightweight transmitter, the Relay G10 is an ideal wireless compliment to The Band.
It's also great because of it's wide frequency response and non-compressed tone that can deliver the best of what The Band is receiving from your violin. It's small "dongle" like form factor and recharging capability provides great convenience. For its performance quality, it is easily the best value for a wireless pickup setup for violin. Affordability is the top of everyone's mind, so it's nice to see this option on the market that violin players can use and not have to spend hundreds of dollars.
5. Andoer Cherub WCP-60V Clip-on Pickup for Violin

This Andoer violin pickup is a cherub pickup and is another affordable option that will produce great sound. This pickup attaches by clipping onto your violin– no drilling holes or using any sort of putty or other material that could affect the outer finish on your violin. This pickup also comes with a long cord that is around 8 feet in length, giving you a good amount of freedom to move around while using your violin. It also comes with a standard ¼" jack.
This model will be one of the best to purchase in terms of affordability, sound quality, and ease of use. The clip on feature ensures it attaches snugly to your violin without damaging it. Don't let the low price point scare you away, this is a quality product from an established brand that specializes in this type of equipment. For professional use, it would make a great back up to one of the other models reviewed on this page.
6. Kremona VV-1 Violin/Viola Pickup

Finally, the Kremona pickup is a moderately priced piezo pickup. What makes this product unique is its wood casing that helps it to blend into the violin, where as other models are typically black and are very visible. This product also features a ¼" jack and is easy to install and detach from any violin or viola. This product does not come with a cable to use with your amp.
If you are looking for a quality violin pickup and are willing to spend a little more, this is a good option for you. While it is not the most expensive pickup on this list, it is also not the cheapest. This product is a good investment piece that will produce quality sound and will also look better than most other models, making it a great option for users who will use this product for performances.
Final Thoughts On Choosing a Violin Pickup
There you have it. Each pickup on this list will produce great sound that stays as true to the original acoustic sound of your violin as possible. The Band by Headway will surpass any of them if you can afford it. That said, you will no doubt be satisfied with any of the above reviewed pickups. These are our top choices, after all.
Depending on how frequently and for what purposes you use your violin, you should be able to easily determine which model to select. If you are a professional player, consider the The Band, Fishman, Barcus Berry, or Kremona. For intro users or those who only play as a hobby, the Leegoal and Andoer models will serve you very well.